About Aspire to HE
Aspire to HE is a partnership, led by the University of Wolverhampton with local schools and colleges, who are committed to improving access to higher education for everyone in the Black Country, and Telford and Wrekin.
We provide impartial guidance and practical support to help people make an informed and ambitious decision about higher education and their future. We operate as a single point of contact for higher education outreach in Wolverhampton, Walsall, Sandwell, Dudley, and Telford and Wrekin.
Since 2017, Aspire to HE has worked with over 30 thousand learners, 10 thousand of those are from a target ward, and over 7 thousand pupils have engaged with us on a sustained programme – which means we will work with them multiple times throughout the project.
In working together, Aspire to HE is aiming to ensure that regardless of their context or background, all young people have a fair and equal chance of fulfilling their potential.
How are we funded
Aspire to HE is part of the national Uni Connect programme funded by the Office for Students. The Office for Students is the independent regulator for higher education in England. Their aim is to ensure that every student, whatever their background, has a fulfilling experience of higher education that enriches their lives and careers.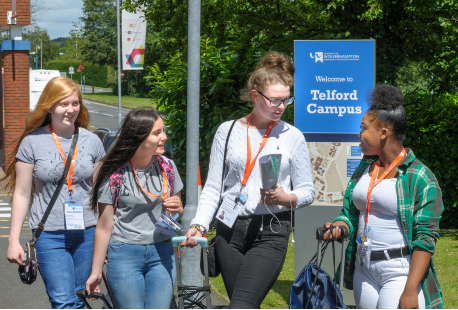 Targeted Outreach
A vital part of the work that Aspire to HE do is ensuring that young people are receiving the most impactful experience through the support and guidance provided. In taking a targeted approach to working with students on a sustained programme, we hope to equip students with the necessary tools and skills they need in order to make ambitious and informed decisions about their future. In doing so, students are able to progress and achieve the best possible outcomes for themselves.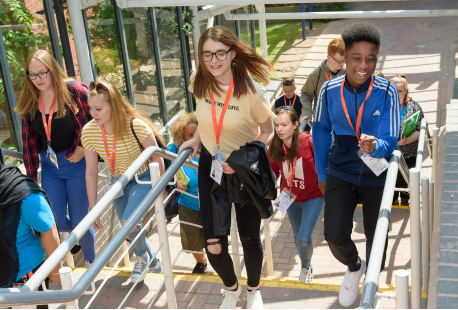 Aspire to HE has for many pupils at Wood Green Academy broadened their horizons. The initiative has enabled students to attend relevant Open Days, exciting faculty projects, listen to inspiring guest speakers and have expert mentoring. This has given students a strong insight into higher education opportunities and career pathways, and created a stronger desire to follow them.
Mr Mahroof
Wood Green Academy
One Charlton School Alumni stated that because of Aspire to HE, she 'changed her mind-set and goals' in secondary school, so that she could be the first person in her family to go onto university. It is testament to our partnership with Aspire that has potentially changed the lives of some of our students.
Students have been taking part in numerous educational visits to museums, sporting events, STEM lectures, motivational workshops, university visits, and summer schools. We have also been lucky to have an Aspire to HE Engagement Officer in two of our schools, and through their mentoring our students have had support in looking at their own aspirations and future plans.
Ms Turton
Dudley Academies Trust